Since I started acquiring masses of jewelry supplies in July, I've been mostly keeping them in baggies since I knew I would be moving out east soon after, so there was no point in doing any heavy-duty organization. Since I got to Montreal on Friday I've been itching to organize my junk - yesterday Davis took me to Canadian Tire and we picked up a hand drill for my metal stampings (so excited to start using it!) and this baby:
It was about $20 and has 96 little boxes. I was torn between this one and an upright one with 60 little drawers, which was only $10. But I thought with the extra space I might as well go with this one; plus I can pull out each tray and look at all the contents at once, whereas with the drawers I'd have to pull out each drawer individually to find what I was looking for.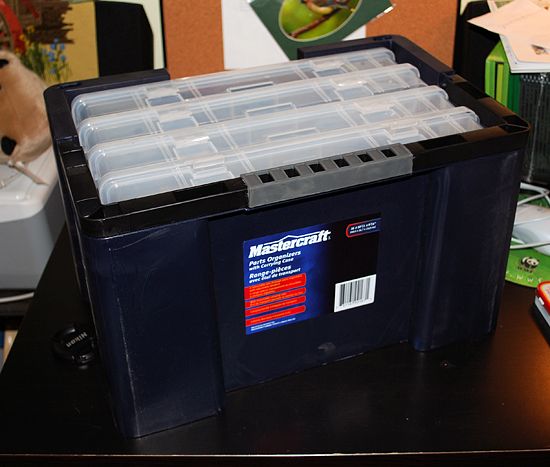 It was a bit of a pain in the butt to sit and pop in all the little dividers. I also found out that unfortunately they don't sit quite flush to the bottom and top, since the corners of the dividers are slightly rounded. I guess if you're storing screws and nuts and bolts and things, that might not matter, but if I were to store the boxes on their side as it's designed for, little tiny things like jump rings and fine chain would slip out of their boxes and visit their neighbours. In the end I don't think it will be a big deal, I'll probably just store the box on its side.
I divided my supplies into 4 categories for each of the 4 trays. Findings: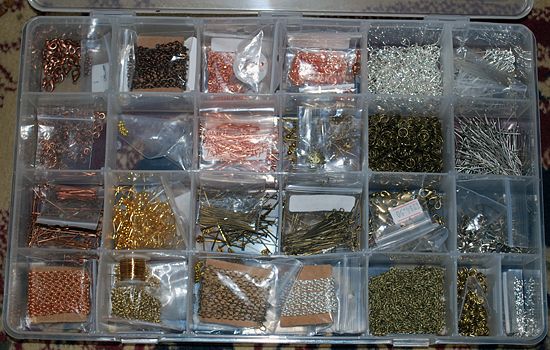 ...beads:
...charms: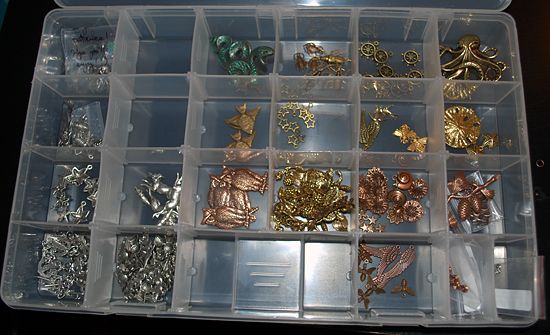 and finished products.
Because I don't really have my own studio or office, I'm just storing my box next to my desk. It's pretty convenient though; much better than digging through plastic baggies!
I love hardware stores.