They say green is the new black these days, with car companies, Russell Simmons, and Wal-mart touting their new planet-saving initiatives. How much of it is greenwashing and how much is genuine, we may never know. However, I recently found one
Etsy seller
who seems to be the real deal.
iDew Designs
is a jewelry line created by an environmentalist with a degree in ocean conservation. As we all know, oceans make up 70% of the Earth's surface, and are responsible for producing up to 80% of the oxygen we breathe in and absorb 50% of the carbon dioxide we breathe out. So, they are pretty important places to conserve!
Apart from using eco-friendly materials such as recycled glass, natural linen and sustainably harvested coconut, iDew Designs also believe in fair trade, ensuring that artisans and suppliers in developing countries are receiving equitable compensation for their products. Thirdly, buying handmade items is definitely more planet-friendly than a necklace that has been mass-produced in a factory, using much more energy than one pair of hands!
Here are some of my favourite pieces from iDew Designs (click on any image to be taken to its page):
Although their shop was catalyzed by a need for eco-friendly wedding jewelry and many of their items continue to fill this niche, married women to single ladies to those of us waiting for a ring will all be able to wear this 'eco warrior bride' necklace. I can picture it with a v-neck sweater or little black dress:
There is also a complementary pearl bracelet and earrings: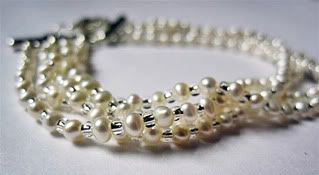 Lemon yellow is one of my favourite colours, and I like to indulge in it with jewelry since yellow clothes make me look jaundiced. These honey glass beads make me want to pop them in my mouth: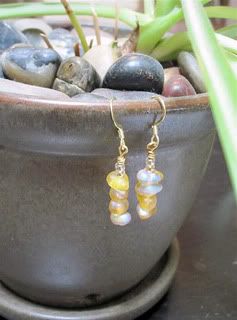 Teal is one of my other favourite colours! This tagua nut necklace looks soft and smooth, making me think of tropical islands and warm breezes: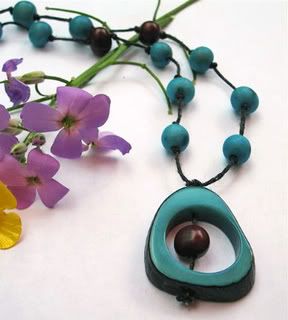 If you would like to be featured here as well, please send an email to themossgarden ((@)) gmail.com.