This is the third year we've taken part in the Audubon Society's
Christmas bird count
, where for over 100 years groups of ornithologists and bird-lovers count each and every bird they see on one day in a specific area in a specific time period. All the sightings are compiled for one region and eventually form one giant database that allows researchers to look at large-scale trends in bird populations to see which species are doing well and which are decreasing in certain areas.
The weather was mild this year but the snow was falling thickly, which made for a beautiful winter wonderland as we walked through the forest, listening for the soft
phoe-bee
of black-capped chickadees or the clear
birrrdy birdy birdybirdy
of northern cardinals.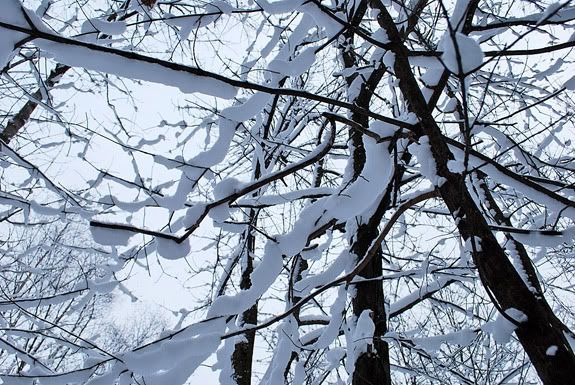 Oh right, but we were also looking for birds.
This was a record year for me - we saw 23 different species of birds including common goldeneye, mergansers, a merlin, two red-tailed hawks, three types of woodpeckers, cardinals, chickadees, white-breasted nuthatches, greater black-backed gulls, robins, sparrows, pine siskins and my personal favourite: the eastern screech owl (can you see it?).
And here's a little white-breasted nuthatch, and below him a downy woodpecker.
I wasn't able to get as many photos of the birds as I would have liked because we saw so many of them from far away, but my little owl more than satisfies me.