I can't emphasize enough how awesome these
umami eggs from TasteSpotting
are. They changed a gloomy, first-day-back-at-school-after-break Monday into
Okay, it may be a bit of an exaggeration, but let me tell you that I boiled seven eggs - so fourteen halves - and I couldn't get Davis to stop eating them fast enough to get a picture of more than two halves.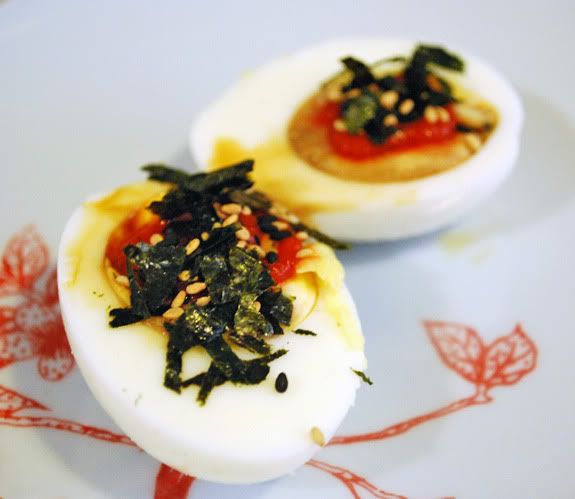 The ingredients are super simple, and these take a minute to make once the eggs are boiled. You will need:
Hard boil and peel your eggs in whatever way you like. The recipe I linked to has a good how-to blurb at the bottom which I tried and liked. Davis swears by
this method
, but I think it's because he's in love with Tim Ferriss.
Next:
Cut the peeled eggs in half.
Add a few drops of soy sauce over the yolk of each egg half. You don't want it to overflow - just soak into the yolk.
Next add a squirt of Sriracha.
And top with the furikake.
Donezo!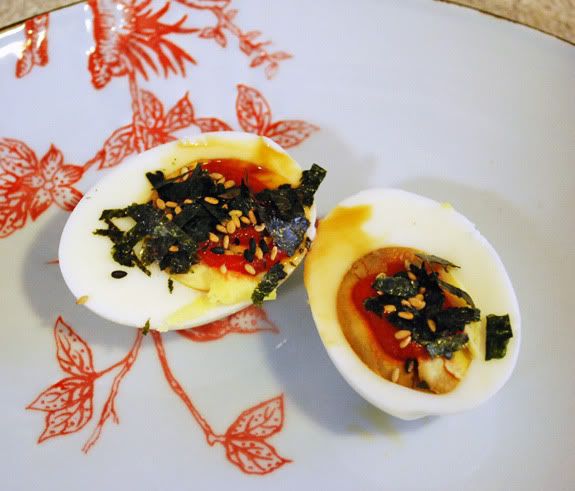 Update: deluxe umami eggs with smoked salmon!