That is the moral of the story.
I walked out of school at 5 p.m. today after intensely observing the genitalia of a 4-month-old bull (really, that was our lab) and the first thing I saw was the moon - nearly full and low in the sky, looking like I could reach out and poke it and have it roll off its perch and stop at my feet.
"I wish I had my camera," I thought. "This would make a really great photo."
"I could walk home right now and grab my camera and tripod," I thought. "It's a 15 minute walk. The moon won't change that much in 15 minutes."
"You have to buy tomatoes and soy sauce," I told myself firmly, looking at the grocery list scribbled on my wrist. "You can't eat photos of the moon."
Unfortunately the grocery store is in the same general direction as our house, so for 15 minutes as I walked in the nose-sniffling cold I flip flopped. Tomatoes. Moon. Soy sauce. Creativity. Food.
But, as I kind of suspected all along, my feet took me home to my camera and my tripod.
So, today's life lesson?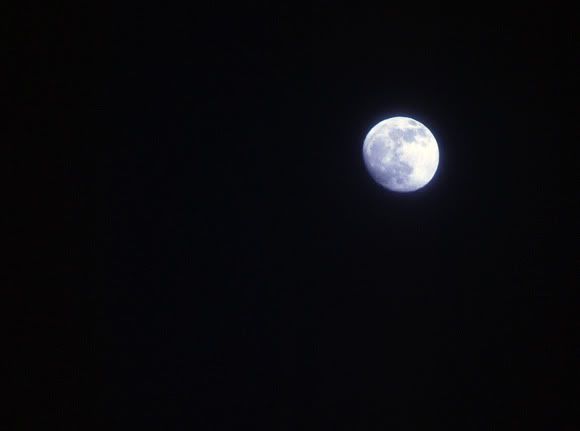 Creativity first. Groceries later.
I'm pleased with this photo especially because I've never had a good opportunity to take low light photos before (other than when we were
running through the forest at night trying to see owls and making coyote calls
), and I was able to play around a bit today. The sky wasn't nearly this black - in fact, it was still relatively light out, but I had to make the shutter speed a lot faster than I expected (about 1/400) in order to get the details of the moon - otherwise it was just a bright smudge. I wish I'd remembered to try a few different f-stops, but that will be a goal for next time.
Some crows flew by. There are a couple hundred roosting next to our house at the moment, but that's for another post.