I've been buying spices in bulk for a couple of years now, because I can't bear to spend $5 on a little glass bottle of paprika at the grocery store. But this meant that I unfortunately had a basket full of little baggies twist-tied with spices in them - not the most attractive or organized presentation.
When we moved to Guelph, I decided to buy a spice rack to fill with bulk spices - we found a
really cool magnetic system
that stood on the counter, which seemed like a good idea because we didn't have much cupboard space (we don't have much counter space either, but it didn't seem like much of an issue at the time). We bought a few extra tins that we figured we'd cram onto the easel, and went home.
I'm not sure how it transpired that Davis figured out that - being magnetic - the tins would also stick to the fridge, but as far as I'm concerned this discovery is right up there with penicillin, flubber, and the theory of relativity. I still remember the dawning look of revelation on his face as he stood there, still holding the tin stuck to the fridge door. We returned the easel set, and bought a bunch more individual tins. And they've been multiplying ever since.
[note also Davis's hercules beetle magnet and the requisite bird on top of the wine rack - well, I assure you it's a bird, it looks more like a blob]
I've labeled the back of each of them and arranged them in alphabetical order - primarily because I'm a nerd, but it also makes things easier to find.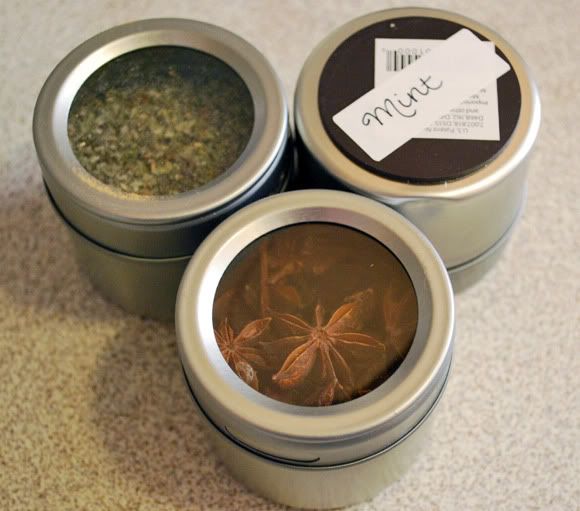 I love my spice rack. Realistically, I'll never run out of room, the tins are just over a dollar each, and if I decide for some unknown reason I never want to eat cardamom anymore, I can just wash the tin and stick a new label on. And most importantly, I can buy spices in bulk without sorting through a bunch of baggies every time I want to cook.