Davis and I rarely go on vacation - being poor as churchmice - and we have never gone away with friends. So it was only by a series of semi-miscommunications that we ended up agreeing to go on an icewine tour in
Niagara-on-the-Lake
with two of our good friends and four of their friends. We left Friday afternoon and drove seven hours from Montreal to the charming and historic little town just south of Toronto. I love love love road trips, love watching the scenery pass by and looking at all the towns and imagining what it would be like to live there and wondering about peoples' lives, and wonder if they wonder about me passing through.
In Niagara-on-the-Lake, we'd rented a
cottage
- really a house - with four bedrooms. It was a beautiful house with a sunken living room and spacious kitchen (important when four of the occupants have degrees in dietetics). We visited at least six wineries, all part of the promotion icewine discovery tour that we were on. I'd never had icewine before, and apparently some of these wineries are the largest producers of ice wine in the world.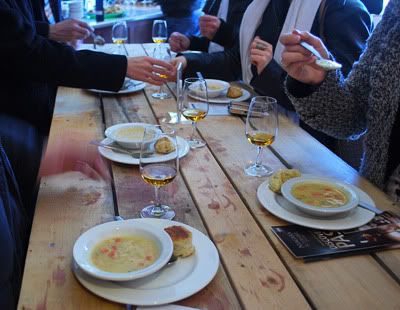 The first winery we stopped at was
Strewn
, where they paired a 2004 white vidal icewine with salmon chowder and a biscuit. Icewine is made from grapes that are picked after they have frozen, but because of this, each grape produces very little juice to ferment... as little as one drop of juice per grape. This results in a very concentrated, very sweet and almost syrupy wine - especially with the vidal grapes. It also results in a very expensive drink... between $40 and $100 per bottle - a bottle being about 200 mL. Of course, you can't drink this stuff like you would regular wine - it is a dessert wine, and it is just too concentrated to have more than a small amount. This was one of the few wineries that paired the icewine with a savoury food, which I thought was unfortunate - given how sweet the wine is, I much preferred it this way than with sweet foods - the exception being the next winery,
Konzelmann
. Here we tried a red icewine made with red cabernet sauvignon grapes - which they poured into a cup made of dark chocolate with shaved chocolate sprinkled over top. It was
amazing
. We also tried a few other varieties of icewine - a Riesling, which was my favourite kind - and a late harvest vidal, which I thought was better than the regular vidal - less sweet.
The next winery was
Hillebrand
, which was featuring another vidal icewine with icewine cupcakes! We stayed for quite a while here, doing more tastings and looking through their boutique. There are some amazing local foods for sale here - icewine jellies, icewine tea, pickled spruce buds and fiddleheads, different kinds of infused olive oil and vinegars... it's shocking we didn't leave fat and broke.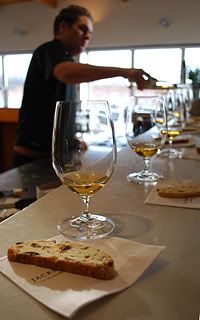 We stopped very quickly at
Jackson Triggs
, which was quite busy but was serving another vidal icewine with a vanilla bean and apricot biscotti. We moved on to Stratus, a special stop since it was not on the regular festival route, but a personal favourite of our friends'. Davis and I agreed - and bought a bottle of their red icewine to have with a nice bar of dark chocolate.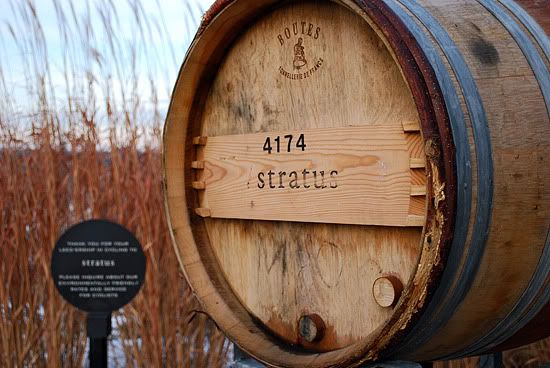 Finally, after seven hours of wining and dining, we made it to our last stop on the tour -
Riverview Cellars
, which was pairing their icewine with a chocolate fondue fountain.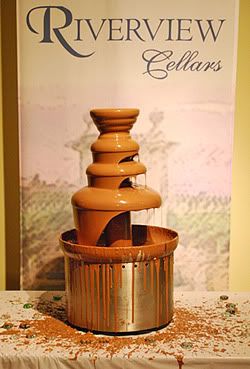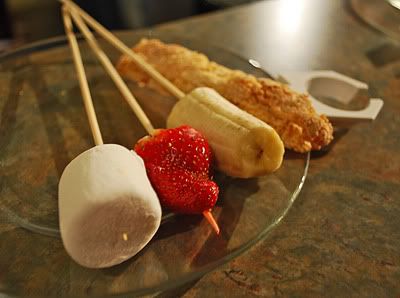 After another seven hours of driving today, we are back at home with happy bellies and looking forward to our next visit to Niagara-on-the-Lake!