At the end of August was the birthday of a good friend of mine - who I'm fairly certain doesn't know this blog exists - and I have been searching for a gift for her since then (without guilt, I might add, as we have an agreement that birthdays generally get a 2-month grace period). Unfortunately she still lives in my hometown, so I only see her when school's out for the summer. I still consider her a close friend, but unfortunately this means that since I don't see her often, I don't know what she wants or needs in terms of gifts. Jewelry is usually pretty safe, but since I know she received a few pairs of earrings for the birthday, I've been looking at necklaces. She is usually pretty minimalistic when it comes to jewelry, but when she goes out I know she favours large dramatic pendants, that type of thing. I've always liked these asymmetrical floral necklaces that seem to be popular on Etsy, though I probably wouldn't get one myself as I am not a big necklace person. But, I think my friend might like them. The only problem now is narrowing them down!
The following two are from
Cymbaline's Designs
. The first one is called
Springtime
. The funny thing about these necklaces is that while the flowers make them feminine, they don't feel overly frilly or girly to me. Just romantic, and a little vintage. I like the pink flower combined with the peridot glass beads in the first necklace. The second one, also from Cymbaline, is called
Raspberries and Champagne
. I really love the two colours in this second necklace - it definitely adds to the vintage feel, and I prefer the duskier pink to the baby pink of Springtime. So out of these two, I would pick Raspberries and Champagne.
The next two are from
It's Beautiful
. The first is called
Essence
, and again it follows a coral and peridot theme. For my friend, I would have to say I would choose this over Springtime, since the colours are a little more dramatic and the flower is slightly larger, which I think suits her taste a little better. For myself though, I would probably pick Springtime. It's so hard when you buy gifts not to let your own taste take over! The second one from It's Beautiful is
Sea and Ivory
. I like this one because there is no pink at all, and although my friend does wear pink I don't think it is her favourite colour. I really like the ivory rose on this one - it's hard to find a realistic alternative to pink when it comes to these acrylic flowers. Hard to choose between these two - maybe Sea and Ivory, since the glass beads aren't as glittery as in Essence, which brings down the drama a little. But again - maybe that's my taste interfering!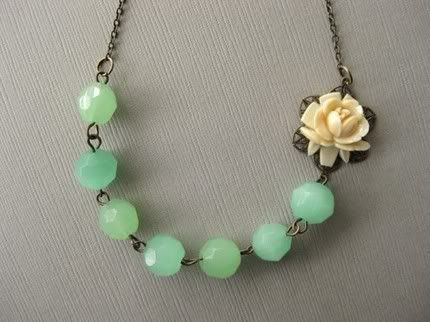 The last option is from
Wiyomu
. It's one of the few purple ones I've seen so far, which is a colour I like for being feminine but not girly. It's called
Purple Plumeria
, and I like that the focal flower is different from all the others. With only one colour, it is a lot simpler than the others, which I like too. Con: it's a bit pricier than the others, but not outside my range yet. Pro: it also comes in a gift box, which makes my life much easier!
So hard to choose! I think I have it narrowed down to Raspberries and Champagne, Sea and Ivory, or Purple Plumeria. What do you think?