Originally posted Aug. 3 2009:
I don't usually have a set design when I sit down and make jewelry - usually I just dump out my stash on the kitchen table and wait for inspiration to strike. Sometimes I shuffle things around like a child's unwanted veggies, seeing if that lights a spark; overall it's a pretty random process.
I bought two vine charms a few weeks ago, and from the beginning I had a germ of an idea what I wanted to do with them, since I also had some lovely cranberry glass blossoms that I thought would match nicely. Since I was starting from a set point, albeit an ephemeral one, I wanted to continue in that vein and plan my piece out a little. I'm a horrific drawer and sketcher, so I traced the vine on looseleaf and added in the details: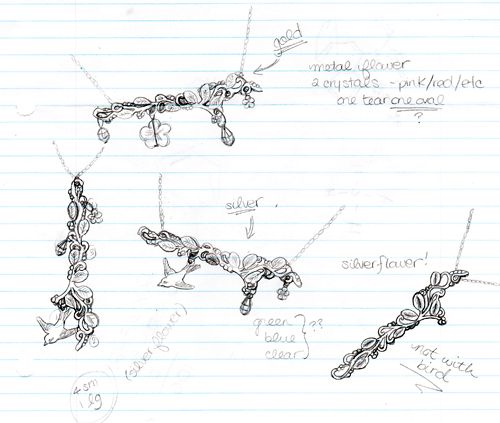 I wanted to work more with this cranberry colour - it's so lush, more delicate than red and more vibrant than pink. I visited the bead store to pick up some Swarovski crystals to finish it off - a bicone in fuchsia and a teardrop in blood red, and got to work.
I had difficulty hanging the charms from the vine - I still have a lot to teach myself.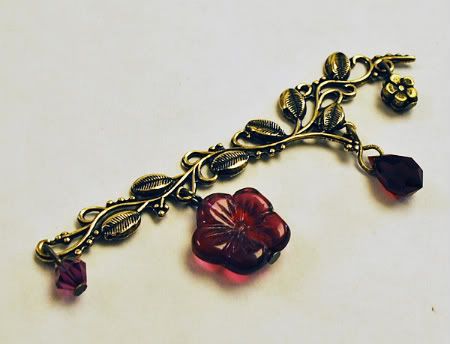 In the end though, I was quite pleased with the result. I love the combination of cranberry and antique gold, plus I found out that another name for the cranberry is 'mossberry' - how perfect to name the necklace!
This item
is available in
my Etsy shop
. The one in my sketch with the bird is in antique silver, and it is available
here!