Finally - my last blog post in my Tofino/Ucluelet series! I have dragged this on, haven't I... we left over a month ago, and it's taken me this long to digest and regurgitate the trip.
Tofino is famous for its rugged coastal beauty and all the opportunities it provides for visitors to get outdoors. Arguably the most famous scenic destination is Long Beach, a 16-km stretch of sand, sea, and sky.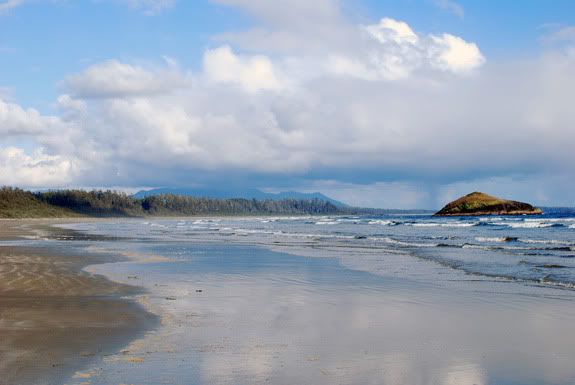 Although Long Beach is part of the
Pacific Rim National Park Reserve
, many of Tofino's other beaches are not. Cox Bay beach, hidden behind the aptly named Cox Bay Resort, is one of my favourites - and it's also a great place to learn to surf!
Davis and I took surfing lessons for the first time last year, and we loved it! The water temperature is usually about 12C in the spring, which is only a degree or two lower than the ocean off Los Angeles. But the air temperature is of course much cooler, and that's what necessitates the neoprene getup!
Both times we've taken surf lessons in Tofino, we've gone with
Pacific Surf School
. I can't say why I chose them initially, other than maybe they offered a 3-hour lesson instead of 2 and a half. In retrospect, if you're moderately out-of-shape like me, 3 hours might be a little long anyway. But we love the instructors at Pacific, plus they give you awesome stickers, so you can put them all over your stuff and pretend you're a super pro west coast surfer too. And yes, that's exactly what I did.
On our last trip, we decided to actually rent some surfboards and go out on our own. Davis is an impressively good beginner surfer - I was able to stand up the first time we went, but this year was a total flop. But, it's still a LOT of fun, and I promise you don't even notice the cold.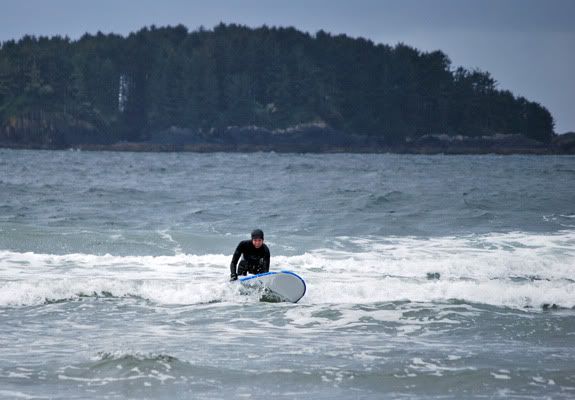 Neoprene. The new Spanx.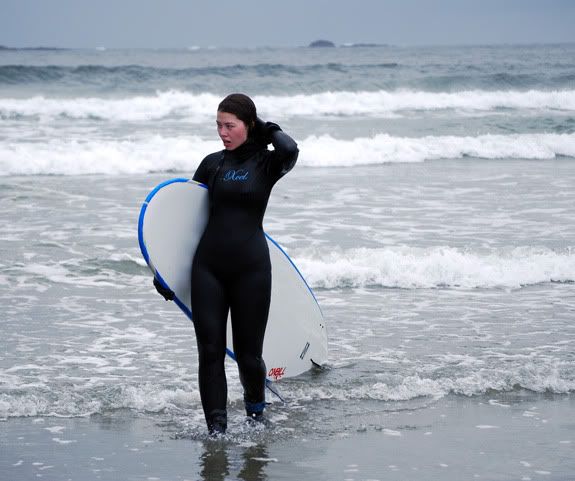 The other thing that we love love love doing in Tofino is scuba diving! Davis has wanted to dive for years, so three years ago we did a discover dive with the local dive shop,
Ocean Planet
. We were insta-hooked. Last year we went back to do our open water certification, and this year we intended to do our advanced open water, but student poverty prevailed and instead we just did a day trip.
I can't say enough how much I love this dive shop - the owner, Andy, is super nice and has the cutest baby I've ever seen. All his divemasters and instructors are equally as awesome - we have never had a bad time, even the time I lost my fin and had to limp back to the boat along the sea floor. I definitely recommend trying a discover dive - breathing underwater is frightening at first, but I always get so quickly distracted by the bounty of life under the waves - the delicate sea pens, opalescent nudibranchs, feathery plumose anemones, starfish of every shape and colour, crabs scuttling here and there and - if you're lucky - giant pacific octopi.
In Ucluelet, we usually try and walk the
Wild Pacific Trail
, a non-strenuous trail that winds along the cliffs and through the rainforest. Trees dripping with moss line the path, and suddenly open into breathtaking ocean views.
There are so many other amazing activities I want to try in Tofino - sea kayaking, fishing, revisit the hot springs, go whale watching, and one day (when I'm in better shape) hike the arduous
West Coast Trail
.
What would you do first on a trip to the coast?
Previous Tofino posts:
Eating
Wildlife watching
Road to Tofino