My name is Victoria, and I went to a Star Trek convention yesterday.
I blame it all on my mother though.
I grew up on The Next Generation, and followed Deep Space 9 and Voyager with some regularity during high school, so I guess you could say I'm a mild Trekkie (Trekker? I don't even know the lingo). My mom is a big fan though - she's seen all the series and movies and loves Patrick Stewart. So when she found out the convention was coming to town featuring both William Shatner and Leonard Nimoy, she felt it was a once-in-a-lifetime chance she couldn't pass up.
We got there a little late and wandered through the vendor's area, which was surprisingly bare. I expected something like the photos of craft fairs I see all the time - tons of booths packed with merchandise. I wanted Spock ears and a communicator, but mostly all they were selling was autographed photos and some T-shirts - and not even the nice ones. Davis says I was disappointed because I was expecting ComicCon or something, but I think it was because we only went to the 3rd and last day - maybe it was busier on the Friday?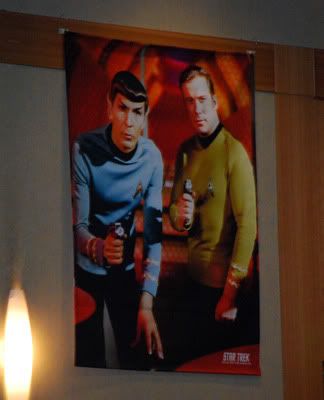 After lunch we caught the end of the auction - which was flabbergasting. They were selling off banners from the convention and signed photos and other memorabilia - this banner of Kirk and Spock which came with front-of-the-line autograph privileges sold for something like $1600. That's more than my tuition for a semester. But, I guess there are people who are really into this stuff... and would rather have an autographed poster than a vacation. It must be a good conversation piece.
Most people, of course, were bidding by raising their hands and sometimes calling out their bids - but there were a handful of guys who would place their bids by standing up and bellowing, "
Qapla
!" This made things interesting.
Finally, Leonard Nimoy came out! He was wearing a shirt that said LLAP, which I didn't get at first. I'll let you think about it.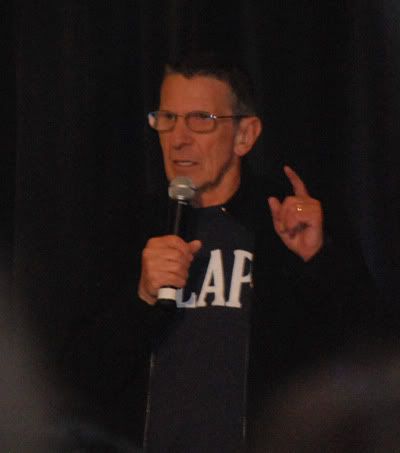 He seems like a really interesting guy, and apparently he's working on a lot of photography projects. He also told us how Bill Shatner stood him up for breakfast that morning. And speaking of Bill, fellow McGill alumni: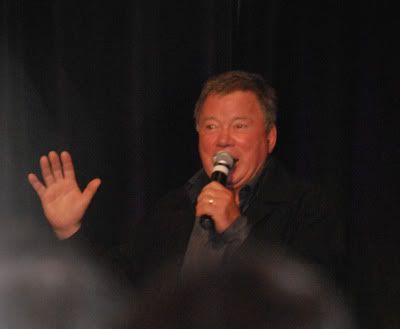 Bill is really funny. I haven't seen him in much other than the Star Trek movies, but he's very charismatic. He told us some stories about when he performed at the closing ceremonies for the Olympics in March, and about his
involvement
with the farmed vs. wild salmon issue, which is something I'm concerned about as well.
Finally Leonard Nimoy came back out and they made fun of each other for another half hour or so. As funny as Bill is, he's even funnier with Leonard as his straight man. They kept us in stitches the entire time.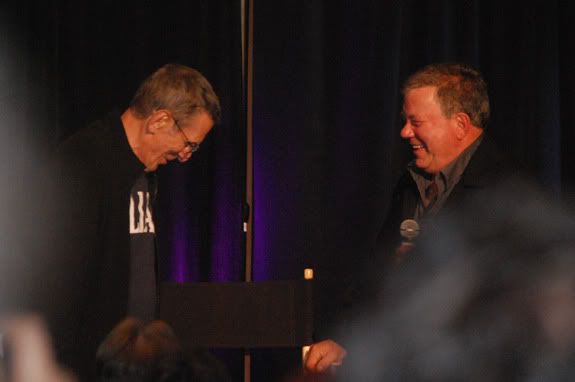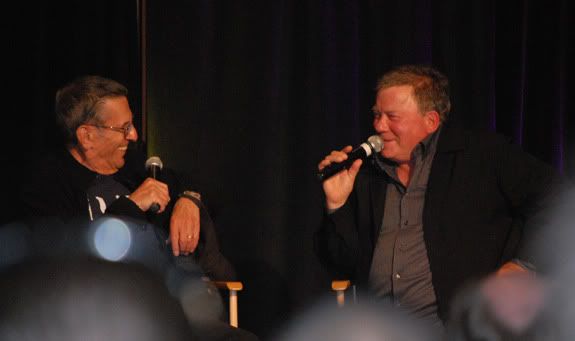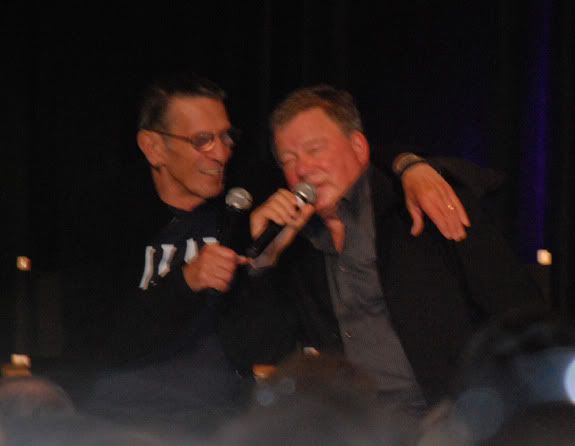 And that was my first Star Trek convention!