I've been craving Asian food lately - peanut butter dumplings,
xiao long bao
,
Azuki bean soup
... etc.
I wouldn't venture to say that this dish is authentically from any Asian country, but the flavour satisfied my craving. It's a blend of a few recipes I plucked from Recipezaar -
Mirj's funky chicken
,
HollyGolightly's Thai noodles
, and
Walt's teriyaki sauce
.
I marinated strips/chunks of boneless, skinless chicken breast (right, for the carnivores) and to-chicken (left, for the herbivores) for about an hour. Leaving it longer would not have hurt. The marinade consisted of:
1 teaspoon ground ginger
1/3 cup soy sauce
1/4 cup honey
1 tsp garlic powder
1 tsp onion powder
1/2 cup water
The recipe originally called for fresh ginger, garlic, and onion but... I felt lazy.
If you feel lazy too, you can use frozen stir-fry veggies. I actually sliced up fresh baby carrots, broccoli and sugar snap peas... but I cooked the hell out of them (accidentally) so they probably have all the nutrient content of frozen ones anyway. I also put some fresh minced ginger and garlic in as well.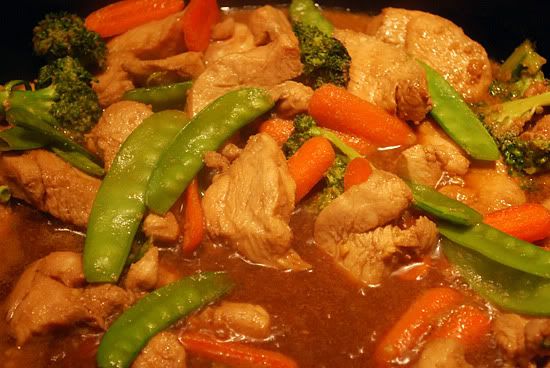 For the noodle part, I prefer using thin thin spaghettini or angel hair pasta. Cook them to your preferred softness, and in a small pot heat up the sauce ingredients:
1/4 cup honey
1/4 cup creamy peanut butter
1/4 cup soy sauce
3 tablespoons rice vinegar
1/2 tablespoon chili-garlic sauce
(That is enough for two people, by the way).
Drain the pasta, mix in the sauce, sprinkle some sesame seeds overtop, and you're done!