One of the many things I love about Richmond - aside from
Asian grocery stores
,
Japanese dollar stores
,
green tea cream puffs
(and Blizzards!),
fish n chips
on the dock, daily eagles, and a plethora of farm markets - is the
summer night market
. All night every weekend during the summer, what seems like hundreds of booths set up in a huge lot in an industrial park on the river, drawing enormous crowds.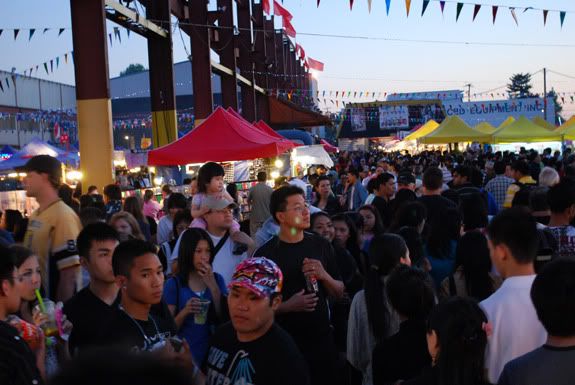 You can get pretty much anything at the night market - handmade incense burners shaped like houses from South America (the smoke comes out the 'chimney'), grasshopper hats, bootlegged Korean DVDs, exotic fruit, underwear both scandalous and matronly, live goldfish, and knockoff Gorillapods.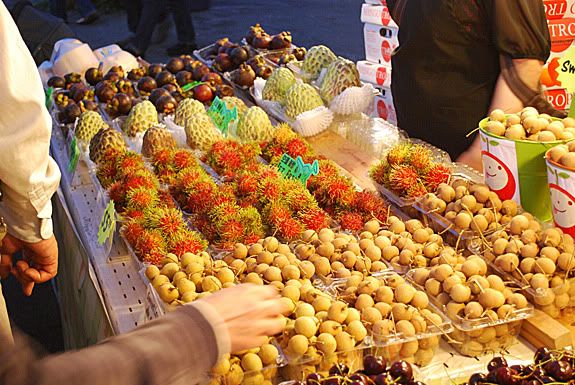 But the food is the best part - and the most packed with people. At times, trying to navigate through the food tents, we would just spend a few minutes standing still waiting for space or movement in the crowd. The variety of food is amazing...lamb skewers from the Middle East, marinated and barbequed octopus from Japan, airy pancake-like egg puffs from Hong Kong, pho noodle soup from Vietnam, dragon beard candy made from spun sugar and peanut paste from China, deep-fried Mars bars from Scotland, and a hundred other things that I can't even describe or remember. It was as common to see someone walking by sucking on an octopus tentacle as it was seeing someone drinking from a coconut. It was a little surreal.
Hope you enjoyed your weekend! Davis booked my birthday present for next weekend - I am pretty much rolling on the floor
squee
ing in excitement, but I think I will wait to share until I have photos. :)