I got home late last night from the second field week for a course I am taking about fisheries and wildlife management. The first week was a trip to the Adirondack mountains in upstate New York; the second week was a longer excursion to a small town on the Bay of Fundy in New Brunswick called St. Andrews to learn about Atlantic fisheries. I was pretty cranky about the trip before going - I don't like to be away from home, and I am a very private person so although I like all the people in my class, I wasn't really looking forward to spending a week in close quarters with them.
The town
itself was really nice - their major source of revenue is tourism, but it doesn't feel like a tourist trap. The main street was full of nice gift shops, beautiful clothing (there was a very heavy, very expensive wool fisherman's sweater that I coveted), tasty cafes and of course great seafood.
Some highlights of the week... splashing around in tidepools like a bunch of 10 year olds, looking for cool organisms. We found starfish, lots of crabs, worms... and the scenery was beautiful!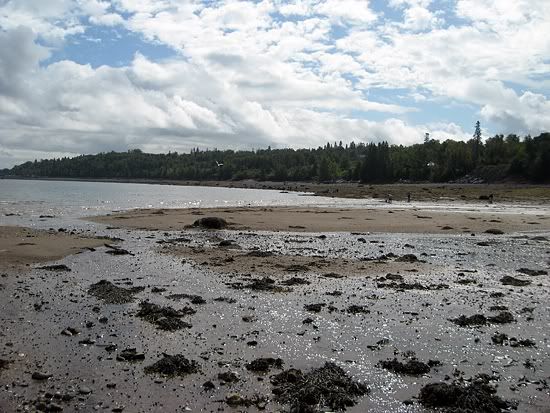 The major highlight of the trip was whale watching! We went by Zodiac, which I would definitely recommend. It was a lot faster than some of the other boats that were going out, so we were able to check out a lot more locations in the couple of hours that we had. As well, there are only 12 people per boat, and almost everyone is seated around the perimeter of the Zodiac so no one had bad viewing seats.
Small island with cormorants and gulls:
We spotted a pod of about 5 finback whales:
Sooty shearwaters!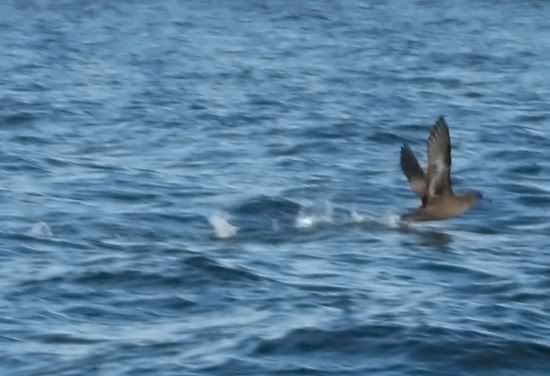 Harbour seals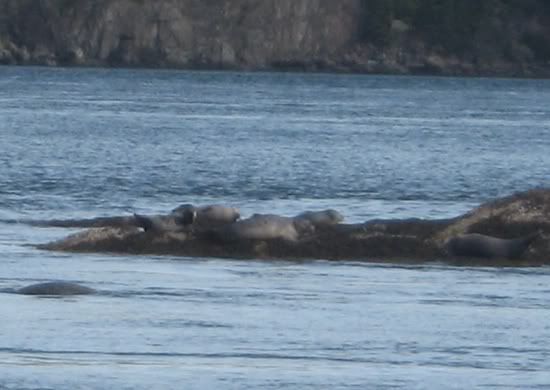 We also saw parasitic jaegers, kittiwakes, lots of different species of gulls and cormorants, harbour porpoises, a few bald eagles and my favourite - a PUFFIN.
We also learned how to electrofish to monitor fish populations - it doesn't hurt the fish, it just paralyzes them temporarily so you can catch them and identify them. We visited a sturgeon hatchery...
...and a fish ladder on the Magaguadavic River...
...learned to identify some rather alarming fish (this one was a silver hake)...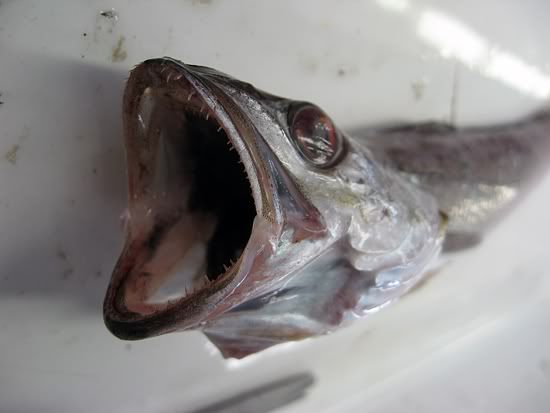 ...went trawling for benthic creatures and fish, and gave a presentation about different topics to local schoolchildren.
So overall, it was a good week. Unfortunately a 12-hour drive home to arrive at midnight combined with the fact that I had forgotten I had a birding date this morning at 7:30 means that I am a little bit of a space cadet at the moment. I also wish that my pictures were better quality, but I didn't want to risk bringing the dSLR along and breaking it so I had to make do with the Powershot.
Coming soon though: better pictures from the dSLR of today's birding excursion!