I'm not a vegan. I'm not opposed to veganism, or vegetarianism, but neither do I see anything morally wrong with eating an animal. I am opposed to the mistreatment of food animals - I always buy free-range eggs, meat from small, local farms, and support
humane food labeling
. But I do like my bbq ribs, my grilled Cajun chicken, my bison steaks, and devilled eggs.
But that is not the point of this post, and I digress. The reason why I ventured into vegan cooking is because I was asked to contribute a couple of items to an on-campus craft fair and bake sale held by Engineers Without Borders back in November. Because McGill's School of Environment is on our campus, there are a lot of vegans and vegetarians (which is ironic, because the farm is also on this campus...) To be vegan-friendly, I looked up a recipe without eggs, butter, or other animal products. I was very happily surprised by how this turned out! It was moist, and flavourful, and Davis has been harassing me to make more ever since.
Vegan Cranberry Pumpkin Bread
Ingredients:
2 cups whole raw cranberries (I used frozen, but if available I imagine fresh ones would be lovely!)
1 1/2 cups flour
1/4 cup cornmeal
3/4 cup sugar
3/8 tsp salt
1 tsp baking soda
1/4 tsp baking powder
1/2 tsp ground cinnamon
1/2 tsp ground ginger
1/4 tsp ground cloves
1 cup canned pumpkin puree
5 tbsp canola oil
2-3 tsp orange zest (I think I might have actually used way more than this... but I'm zesty)
3 tbsp water
Preheat your oven to 350 degrees. Using a food processor or a sharp knife and lots of patients, roughly chop the cranberries until they are about quartered and set aside.
In a medium-sized bowl, mix the flour, cornmeal, sugar, baking powder, baking soda, and spices.
In a larger bowl, mix the wet ingredients - pumpkin puree, oil, orange zest, and water. In small portions, start adding the dry ingredients to the wet, mixing as little as possible until just combined. Pour the batter into a cake pan - I know the recipe title says loaf, but the recipe calls for a 9-inch round or square cake pan. I used a springform cheesecake pan, and it seemed to work. Someone who reviewed the recipe used a muffin tray. I'm curious to see what would happen if you used a normal loaf pan... an experiment for the future. Oh, and because there's no butter, it might be a good idea to grease your pan. I might have unthinkingly used butter, something I only realized now, two months after the fact. I really hope I didn't.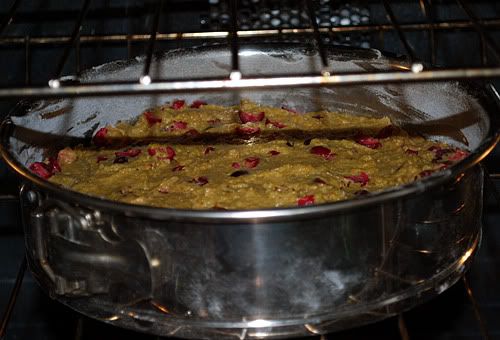 This should be baked for 45-55 minutes. The recipe suggests removing the cake from the pan relatively soon after taking it out of the oven, or the bottom may get soggy.
Ta da! It was quite a dense loaf, but that could be due to my overstirring. But it was quite good - which I think others agreed with, as they sold out of it!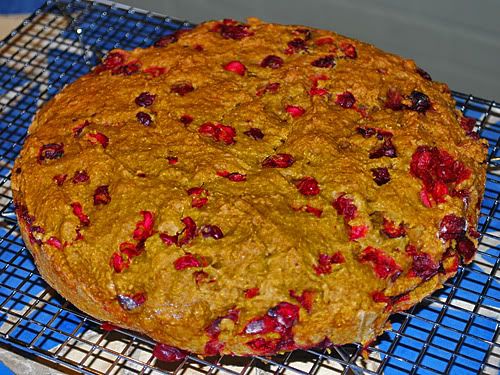 I also made traditional chocolate and vanilla icing cupcakes, for the non-vegan junk food addicts like myself: